Shop
A new, unique book, Piping Hot! Tales of a Wandering Bagpiper
is now available to those people interested in all things Celtic!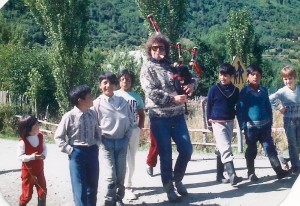 Piper and traveler Susan Hadley Planck weaves together her
sense of adventure with her love of bagpiping.
She relates engaging stories of travel and piping to the top
of Mt. Fuji in Japan, on the Great Wall of China, at the base
of Mt. Fitzroy in South America and marching with 10,000 pipers
through the streets of Edinburgh in the 2000 Millennium parade.
This book is a one-of-a-kind, for those who have intimate experiences with bagpipes,
love the skirl of the bagpipes, have Scottish-Irish roots, or just enjoy interesting travel.
Enjoy reading about her zany adventures mixing different cultures through the world of music.
Susan writes from the perspective as a member of the award-winning
City of Denver Pipe Band for more than 15 years. She gained insights
into the antics of bagpipe bands, competitions, piper personalities,
gigs from participating in "Memphis in May" celebration to Oktoberfest
in Sidney, Nebraska, and opportunities to share her music with lovers
and non-lovers of bagpipes. Humorously written, this book resonates
with bagpipers and bagpipe lovers who relate to the uniqueness of the
bagpiping world.
---
Showing all 4 results